Diesel Engine Repair Services
in Edmonton
True North Truck & Diesel has been specializing in diesel engine repair for the past 40 years. Our heavy duty mechanics are Cummins authorized service associates and provide engine repair services on Cummins, CAT, Paccar, and more. Our technicians are certified professionals and are committed to getting you back on the road ASAP, because we know that lost time means lost money for our customers. Here are just some of the diesel engine repair services we offer:
If you are experiencing any performance issues with your engine, please
contact us today
for a free consultation or to schedule diesel engine repair services.
Signs That Your Diesel Engine Needs Repair
Diesel engines make a considerable amount of noise compared to gasoline engines, which can make it difficult to detect or diagnose problems by ear. However, there are some signs you can pay attention for that will indicate your diesel engine requires maintenance:
These may be indicators of insufficient fuel supply, low fuel pressure, or poor fuel quality. Detecting these issues early on can be vital in the health and longevity of your diesel engine. If you notice any of these symptoms do not hesitate to contact us. Our certified mechanics will diagnose and repair the problem before it becomes a major expenditure. 
We also offer preventive maintenance services to help keep your engine running at optimal performance and prevent costly repairs from occurring down the road.
Diesel Performance Upgrades
Apart from keeping up with regular maintenance on your diesel engine, our expert technicians at True North Truck and Diesel offer engine modification services to help improve overall performance and fuel economy. We can provide the following services to help maximize your diesel engine's performance:
Our certified heavy duty technicians are fully trained and experienced with all types of diesel engines. Contact us today and let's get your vehicle running at optimal performance.

Our heavy duty diesel mechanics are experienced with all types of diesel engines, but specialize in the following engines: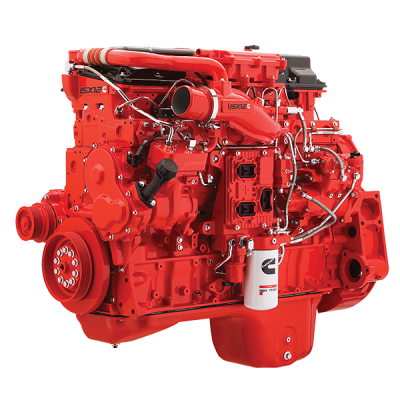 Cummins ISX 870
Cummins ISX 871
Cummins ISX 2250
Cummins ISX 2350
Cummins ISB
Cummins ISC
Cummins ISL
Cummins ISM
Cummins M11
Cummins X15 CM2350 X114B
Cummins X15 CM2350 X116B
Cummins X15 CM2450 X124B
Cummins X15 CM2450 X134B
"These guys are great! You won't find a more professional and honest repair shop in Edmonton. And it goes without saying that Ken is arguably the most respected and knowledgeable Cummins mechanic in western Canada. He is literally a walking encyclopedia of Cummins engines. We find their rates are fair, especially given this level of expertise. They understand that downtime means lost revenue and they have gone way beyond the call of duty in getting us back on the road ASAP. Many thanks to the whole team at True North."
"Awesome shop, had crazy problems with a 2012 Pete ISX 550 deleted, ran horrible, the engine was getting air into the fuel system, the team there was able to do their magic in finding this ghost, many people and shops tried, but had no success, but thanks to Ken and his team at True North the problem was fixed. I cannot thank you guys enough for your great service. (The CUMMINS specialists!) Keep up the great work! Darren"
"I have been taking both my trucks to True North for over 2.5 years. I've dealt with Paras, and he is the most competent and professional i've met in all Edmonton shops. I have confidently referred my friends only to true north knowing the repair will be done correctly. Thank you Paras for your work on my trucks."
"The guys at True North were excellent to deal with- I had a intermittent wiring issue that was hard to find and they stayed with it until it was found and fixed right, they were very fair on the billing and stand behind their work!"
"TRUE NORTH provides top quality engine services from replacements to complete rebuilds. Always happy with their services."
"My buddy kept telling me about this place but I usually like the dealers because of their knowledge. The boys at True North have impressed me so much my whole fleet of petes will be theirs. They troubleshooot by the book and don't waste money or my time. Hard to find honest guys like this these days."
"Very professional, very fair. These guys know what they are doing! Pleasant to deal with and are at the top in knowing about Cummins engines. Family owned business makes this company excel in service."
"These guys are the best to deal with, always helpful and knowledgeable. Heard about them at a truck stop in Regina, from a fellow trucker who is out of Victoria.. needless to say these guys customers are the best advertisers they can find.."
"This repair shop is one of the best found in northern Alberta open shop means no hidden shady work staff that will listen and work with you."
"The best family owned heavy duty shop in Edmonton. Ken and the boys have worked on my trucks for 5 years and I won't waste time and money taking it to anyone else. 100% fair prices for 120% quality work everytime from oil changes to overhauls."
"My truck used to drink a lot more fuel before Ken and the boys started tweaking and tuning my Cummins!"
"Ken has extended knowledge of CUMMINS products, I highly recommending his service to anyone that needs it."
"Extremely well run company with excellent service. The first time I had work done with True North I was so impressed with the level of workmanship and knowledge that I never stopped coming back. That was 8 years ago."
Need Diesel Engine Repair Services?
Contact Us For a Free Consultation
Need this service? Call us today to book work
Service

Hours
Monday

8:00 am - 5:00 pm

Tuesday

8:00 am - 5:00 pm

Wednesday

8:00 am - 5:00 pm

Thursday

8:00 am - 5:00 pm

Friday

8:00 am - 5:00 pm

Saturday

CLOSED

Sunday

CLOSED